Eve's* Vegetarian Cuisine -  Good Health  Begins in Your Kitchen! 
Look for a "new" yummy recipe from  Eve's kitchen every month. (Have a vegetarian recipe to share? Please email it to me to share with everyone. You can catch me at: mediawest@shaw.ca )

Eve's June Recipe:
(Eve's Yummy Chocolate Tofu Pie, a great choice if taken in moderation.)
Click Here for More Monthly Recipe's
"Vegetarian Yummy Chocolate Tofu Pie" (Recipe shared by Sandy Betts)
Examples below as credited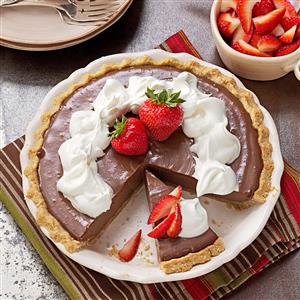 Juliana Thetford                                                  Wegmans                                                Jolinda Hackett                                                  Tania Davis                                                     Susan Voisan
2 Boxes Silken Tofu.
8 to 10 oz of your favorite brand of chocolate chips.
3 T of honey (Vegan option:  Can use sweetener of your choice or non at all, if so desired.)
 1 - 9" pie crust of your choice (Graham cracker crust from Safeway an easy option.)
Directions:
                          1. First whip tofu in a food processor until smooth, a blender will also work.
                          2. Heat chocolate chips in a double boiler or a micro wave until melted.
                         3. Stir in honey and then add mixture to the blended tofu in the mixer.
                         4. Pour blended mixture into already baked 9" pie shell.
                         5. Refrigerate for 2 to 3 hours before serving.
                         5. Can add whipped topping of your choice when served.
                         6. Make 2 pies because everybody will want seconds.
*Eve as in Adam's wife, this world's first vegetarian cook. And she did well, Adam lived to be 930 years of age.
July's Recipe: