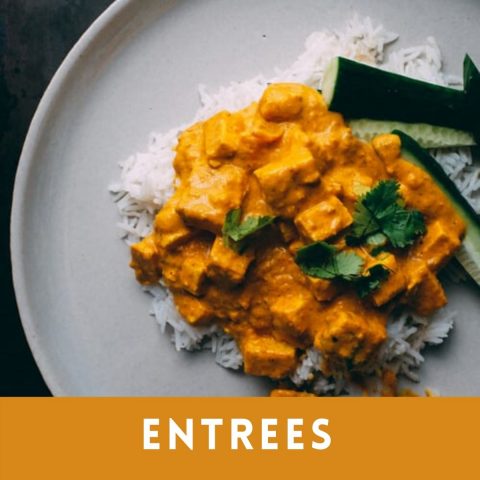 Grilled Portobello Burger with Sun-dried Tomato Kale-Hemp Pesto
Modified from Oh She Glows, pg 169
Mushrooms:
4 medium Portobello mushrooms
2 TBSP plus 1 ½ tsp (37 ml) fresh lemon juice
1 TBSP (15 ml) extra-virgin olive oil
1 clove garlic, minced
1 tsp (5 ml) dried oregano
1 tsp (5 ml) dried basil
¼ tsp (1 ml) fine-grain sea salt
¼ tsp (1 ml) freshly ground black pepper
Pesto:
1 clove garlic
1 cup (250 ml) lightly packed destemmed kale leaves
¼ cup (60 ml) oil-packed sun-dried tomatoes
¼ cup hemp seeds
1 TBSP (15 ml) fresh lemon juice
2 TBSP (30 ml) olive oil
¼ tsp (1 ml) fine-grain sea salt
2 TBSP water
Optional Toppings:
Caramelized onions
Kale or lettuce leaves
Sliced tomatoes
Remove the stems from the mushrooms by twisting the stem until it pops off.  With a small spoon, scrape out and discard the black gills.  Rub cap with a damp cloth to remove any debris.
In a large bowl, whisk together the lemon juice, oil, garlic, oregano, basil, salt and pepper.
Add the Portobello caps to the bowl and toss to coat them in the marinade.
Marinate the mushrooms for 15 minutes, flipping once.
Make the pesto: In a food processor, add the garlic, kale leaves, sun-dried tomatoes, hemp seeds, lemon juice, olive oil, salt and 2 tablespoons (30 ml) water and process until smooth, stopping and scraping down the sides of the bowl as necessary.
Preheat a grill pan or an outdoor grill over medium-high heat.  Grill the Portobello caps for 4 to 5 minutes per side, until lightly charred and tender.  Or, cook in a 350° oven for 10 minutes, 5 minutes each side.
Serve the Portobello caps on a toasted bun or sliced up in a lettuce wrap topped with a generous amount of the pesto, and additional toppings of your choice.  Any leftover pesto will keep in an airtight container in the refrigerator for at least a week.  It's great on sandwiches, wraps, pasta and more!
Prep time 15 to 20 mins
Cook time 10 mins
 Yields 4 burgers             
Vegan Lentil Roast
2 cups cooked whole red lentils
1 cup cooked brown rice
1 cup finely ground walnuts (pecans/peanuts/sunflower seeds)
½ cup Quick Oatmeal or Crushed Cornflakes
1 can diced tomatoes, 398 ml
1 tsp Himalayan salt
1/2 tsp poultry seasoning
2 Tbsp nutritional yeast
1 Tbsp chicken style seasoning
1 medium onion, chopped
2 stalks celery, chopped
One cup of dry lentils will yield 2 to 2 ½ cups cooked lentils. Rinse and cook whole lentils, use a ratio of 3 cups water to 1 cup lentils (3:1).  Bring to a boil and cover and simmer 50-60 minutes, drain if any liquid left.  If using split lentils, 3:1 water to lentils, bring to a boil, then cover and simmer for 7-10 mins. Drain if required.  For more information on lentils, see www.lentils.org
One cup of brown rice will yield 2 cups cooked rice.  Rinse and cook brown rice, use a ratio of 2 cups water to 1 cup of brown rice.  Bring to a boil and then cover and simmer for 45 mins, let rest 5 mins.
Mix all ingredients in a bowl together well.
Pour into a lightly casserole dish.
Bake at 350 degrees F. for 1 hour, uncovered.
Tomato sauce topping: (Optional)
1 small can of tomato paste, 156 ml
1 tsp of brown sugar (opt)
¼ cup ketchup
Miso Baked Tofu
Recipe by thespruceeats.com
Prep Time: 10 mins                            Cook Time: 20 mins                            Yield: 4 servings
Ingredients
1 container firm or extra firm tofu (well pressed)
1/3 cup miso
3 Tbsp. rice vinegar
3 Tbsp. sugar
2 Tbsp. soy or almond milk (unsweetened)
1 tsp. ginger
1 tsp. garlic (granulated)
3 Tbsp. water
2 Tbsp. soy sauce
2 Tbsp. oil (olive, sesame or vegetable)
Optional: a dash of cayenne pepper
Optional: sesame seeds
Directions
Pre-heat oven to broil or highest setting. Cover a cookie sheet with tin foil. Combine all ingredients except tofu and oil using blender or mixer. Slowly add oil and mix until smooth and creamy. Pour mixture into wide bowl or pan.
Cut tofu into 1/2-inch-thick pieces and dip into miso mixture until coated with a thin layer, reserving some of the mixture.
Gently lay tofu pieces on covered cookie sheet. Broil 8 to 10 minutes until golden brown and slightly crisp. Remove from oven.
Turn the pieces over and "baste" another layer of miso mixture over the pieces with a spoon. Broil 8 to 10 more minutes until browned and crisp. Sprinkle with sesame seeds if desired and enjoy!
Shepherd's Pie
Mashed Potatoes
1 1/2 to 2 lbs. potatoes (about 3 large), peeled and quartered
3 TBSP butter or Olive Oil
1-2 tsp Nutmeg
Salt to taste
Use potato water or milk substitute to moisten the mashed potatoes
Veggie Filling
1 medium onion, chopped (about 1 1/2 cups)
3 minced garlic cloves
1 red/yellow/green pepper
1 large tomato diced
1-2 cups vegetables—diced carrots, corn, peas (fresh or frozen)
2 packages of Yves original veggie ground round
1-2 cup veggie broth
1-2 tsp. cumin
2 TBSP Olive Oil (optional, or you can sauté veggies in broth)
Salt to taste if needed, broth may have enough salt
Directions
Boil the potatoes: Place the peeled and quartered potatoes in medium sized pot. Cover with at least an inch of cold water. Add a teaspoon of salt. Bring to a boil, reduce to a simmer, and cook until tender (about 20 minutes).
Sauté vegetables: While the potatoes are cooking, melt butter/add oil/ or 3 TBS broth in a large sauté pan on medium heat. Add the chopped onions, garlic, peppers and tomato and cook until tender, about 6 to 10 minutes.
Add the ground veggie meat:  Season with Cumin and blend into sautéed vegetables. Add broth to pan so that it is moistened but not too runny.  Bring the broth to a simmer and reduce heat to low. Cook uncovered for 5-10 minutes, adding more broth if necessary to keep from drying out. If you are including frozen vegetables, I add them now or according to their cooking time. Raw chucks of carrots should be cooked with the onions, because they take as long to cook as the onions do, unless if they are shredded. If you are including peas or corn, add them now, as they take very little cooking time.
Mash the cooked potatoes: When the potatoes are done cooking (a fork can easily pierce), remove them from the pot and place them in a bowl with the remaining 3 Tbsp. of butter. Mash with a fork or potato masher, and season with salt and nutmeg to taste.
Layer the meat mixture and mashed potatoes in a casserole dish: Preheat oven to 400°F. Spread the meat, onions, and vegetables mixture in an even layer in a large baking dish (8x13 casserole).
Spread the mashed potatoes over the top of the ground beef. Rough up the surface of the mashed potatoes with a fork so there are peaks that will get well browned. You can even use a fork to make creative designs in the mashed potatoes.
Bake in oven: Place in a 400°F oven and cook until browned and bubbling, about 30 minutes. If necessary, broil for the last few minutes to help the surface of the mashed potatoes brown.
No Bake Vegan Sushi Casserole
Recipe by Andy Millard
Prep Time: 30 mins                Total Time: 1 hour 30  mins                           Yield: 8 servings
Ingredients
2 cups short grain brown rice
4 cups water
1 pkg extra firm tofu 350g
5 Tbsp seasoned sushi rice wine vinegar 
4 Tbsp sesame oil
3 Tbsp tamari 
1 large avocado 
1 lemon
2 small carrots
1 small cucumber
2 sheets of nori
2 Tbsp roasted sesame seeds
Directions
Cook rice in rice cooker with water, preferably soaking the raw rice ahead of time for at least 1 hour.
Once the rice is cooked, mix the sushi rice vinegar into the cooked rice while rice is still hot, and place rice mixture into 9 by 13 casserole dish.
Using a basting brush, brush over rice mixture with 1 tbsp of tamari and then brush on 2 tbsp of sesame oil.
Mash up the avocado with the juice from the lemon and spread this mixture on top of the rice.
Cut up nori sheets with scissors and sprinkle half of the nori on top of avocado layer.
Crumble well-drained tofu and mix with 2 tbsp of the sesame oil and 2 tbsp of the tamari.
Place tofu mixture in a skillet and fry over low-medium heat until brown; spread fried tofu on top of the nori layer.
Peel and grate cucumber for next layer, and then spread peeled and grated carrots on top of the cucumber.
Sprinkle the remaining nori on top and garnish with a sprinkling of roasted sesame seeds.
Serve casserole with a side of pickled ginger slices if desired.