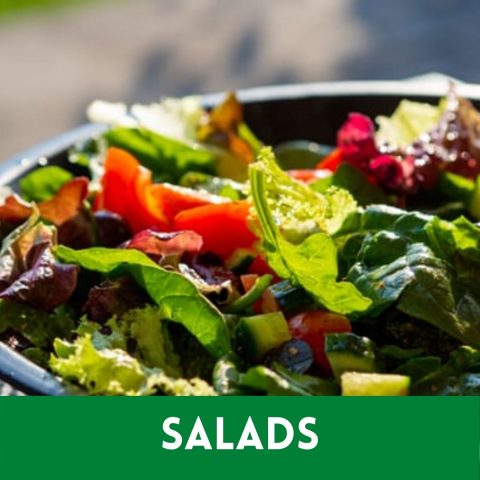 Marinated Bean Salad
1 - 15 oz tin Kidney Beans 
1 - 15 oz tin Garbanzo Beans
1 - 15 oz tin Mixed Beans
1 - 15 oz Green Beans
1 - 15 oz Wax Beans

Drain the above and put into a large container

1 red onion (chopped = 3/4 cup)
2 celery stalks (chopped = 1 cup)
1/2 cup chopped parsley

Add to bean mixture above

2/3 cup Apple Cider Vinegar
1/2 cup sugar
1/3 cup Olive Oil
1 tsp salt
1/4 tsp pepper
1 tsp Worcestershire sauce (or 2)
1 clove garlic, minced (or 2)

Whisk above together then add to the bean mixture.
Refrigerate mixture for 1-2 hours, or overnight.
Note- This salad keeps for weeks, and flavor is enhanced with aging.
Prep time 10 mins, chill time as long as you like                               Yields lots! 
Couscous Salad with Sun Dried Tomato and Feta
from www.recipetineats.com
1 ¼  cups dried couscous (see Note 1)
1 ¼  cups (315 ml) boiled water
1 tsp vegetable stock powder (or 1 cube crumbled) (see Note 2)
1 garlic clove , minced
1 tsp coriander powder (or cumin)
1 can 14 oz chickpeas, drained
½  cup coriander , finely chopped
½ cup parsley , finely chopped (or mint)
1 red onion , chopped
1 - 7 oz jar sun dried tomato strips in OIL (Note 3)
1 -  4 oz rocket / arugula lettuce , chopped into 5 cm / 2" pieces
Zest of 1 large lemon
5 TBSP fresh lemon juice (2 large lemons)
½  tsp coarsely ground black pepper
60 g / 2 oz feta , crumbled
Salt and pepper , to taste
Place chickpeas, couscous, vegetable stock powder, coriander and garlic in a large bowl. Pour over hot water, shake to level out couscous (chickpeas should mostly settle on top). Cover with plate or cling wrap, set aside for 5 minutes.
Fluff couscous with fork. Cool a bit.
Add coriander, parsley, onion, sun dried tomatoes (including all oil), rocket, lemon juice and black pepper. Sprinkle zest across surface. Toss well to combine.
Adjust salt and pepper to taste.
Transfer to serving bowl, sprinkle with feta. Serve.
Prep time 10 mins, chill time 10 mins                                      Yields 12 bars        
Recipe Notes:
1. Couscous are tiny grains the size of cracked pepper. They are made from wheat - it's essential teeny pasta. Because it's so small, you just need to soak it. You can substitute with quinoa, barley or other grains - cook as required for those grains. 

If you want to make this with Israeli or Pearl Couscous which are larger beads of couscous, cook per the packet (it needs to be boiled) then proceed with the recipe but skip the soaking in boiled water.

2. Using stock powder or a crumbled bouillon cube goes a long way to add flavour to your couscous. Stock powder is basically bouillon cubes in powder form. 1 tsp = 1 cube. I like to use vegetable but chicken is also great. I use Vegeta. (PS Great to have on hand - of recipe calls for broth, just dissolve in hot water, 1 - 1 1/2 tsp per cup. Much more economical than buying liquid broth).

The alternative is to use boiled vegetable or chicken broth instead of water. Salt is a last resort - if you use salt, I would add 1/2 tsp cumin powder, 1/4 tsp each onion and garlic powder which will add more layers of flavour.

3. This recipe uses the oil in the sun dried tomato jar as the dressing. If you only have the sun dried tomatoes without oil, just drizzle olive oil over the salad - I think you'll need about 1/3 cup (80ml), maybe a bit more. There's far less than this in a jar of sun dried tomatoes but because the tomatoes themselves are soaked in the oil, it feels like there's more!

4. 12 MINUTE COUSCOUS SALAD goes down like this: Get the couscous soaking, then start on the chopping. Because there's no separate dressing to make and assuming reasonable chopping skills, I bet you can get this on the table in 12 minutes!

5. STORAGE / MAKE AHEAD: Even dressed, this keeps well for 2 days or so because it's not leafy or weighed down with an oily dressing. To make ahead fresh, just place all the ingredients in a bowl except the sun dried tomato and lemon juice. Then add them just before serving and toss! 

6. Nutrition per serving, assuming 10 servings.
Grape and Broccoli Salad
Recipe from 'Silver Hills Spa Cuisine', page 86
Salad:
4 cups small broccoli florets
1 cup halved seedless green grapes
1 cup of halved seedless red grapes
½ cup finely sliced celery
¼ cup sliced green onion
1 cup jicama and/or sliced apple
½ cup sliced and toasted almonds or pine nuts (save some for the garnish)
Dressing:
½ cup tofu mayonnaise
¼ cup soy sour cream
1 Tbsp white vinegar
2 Tbsp dry sweetener of choice
¼ tsp pepper
⅛ tsp salt
Blanch the broccoli for approximately 30 seconds.
Immerse immediately in a cold water bath.
Drain well, removing excess moisture with a cotton cloth.
Combine the broccoli, grapes, celery, onions, jicama and/or apple, and nuts in a large bowl.
Toss the salad dressing with the broccoli mixture. 
Garnish with toasted nuts.
Add salt and pepper to taste.
Yields approximately 5 servings.       
Quinoa Crunch Salad with Peanut Dressing
Recipe by pinchofyum.com
Prep Time: 20 mins                             Cook Time: 15 mins                             Yield: 6 huge servings
Quinoa Salad Ingredients
2-3 cups shelled edamame
2 cups Simply Nature Organic Quinoa
1 cucumber, diced
1-2 bell peppers, diced
2 ripe mangoes, diced
3 carrots, shredded
half a head of purple cabbage, shredded
sliced almonds, peanuts, cashews, etc.
Peanut Dressing Ingredients
1/2 cup Simply Nature Creamy Peanut Butter
1/3 cup soy sauce
1/3 cup vinegar (white distilled or rice vinegar)
1/4 cup sesame oil
1-2 tablespoons chili paste like sambal oelek
2 tablespoons honey
1 clove garlic
1 knob of fresh ginger, peeled
Directions
Cooked stuff: Cook the quinoa and edamame according to package directions.
Veggies: Chop everything up.
Dressing: Give it all a whirl in the food processor or blender.
Serve: Assemble individual salads, or toss it all together.
Notes:
If You Want To Be Extra: This is really good with a handful of dried fruit thrown in the mix. Dried mango, golden raisins, dried cherries… all good choices.
Storage: I stored all the veggies together in one container, but I kept the quinoa and the dressing separate. It should last you for the week!
Dressing: If you find yourself with extra dressing (I never do, but I'm a dressing hog), you can also freeze it for another time!
Amounts: If you want to be very methodical about it and make sure you get your 6 servings balanced out, you'll use about 3/4 cup quinoa, 1/4 cup dressing and 1+ cup veggies per salad.
Nutrition Info: Most of the calories come from the quinoa and dressing. To make this a lower-calorie salad, use less dressing or higher veggies than quinoa.
Prep time: about 20 minutes                          Yield: about 1.5 cups, enough for 2 or 3 salads
Spinach and Beet Salad
Ingredients
1-1/4 pounds fresh beets
5 cups fresh baby spinach
Dressing:
1 tablespoon balsamic vinegar
1-1/2 teaspoons honey (not vegan) or maple or agave syrup
1-1/2 teaspoons Dijon mustard
1/4 teaspoon salt
1/4 teaspoon pepper
1/4 cup olive oil
1/2 cup chopped walnuts, toasted
2 ounces fresh goat or feta cheese, crumbled (not vegan), optional
Directions
Scrub beets and trim tops to 1 in.  Bake in foil on tray for 45-50 mins in 400 degree oven until knife tender.  Place in a Dutch oven and cover with water.   Or, you can bring to a boil. Reduce heat; cover and simmer for 30-60 minutes or until tender. Remove from the water; cool. Peel beets and cut into 1-in. pieces. 
In a small bowl, whisk the balsamic vinegar, honey (or agave, maple syrup), mustard, salt and pepper. Slowly whisk in oil until blended.
Place spinach in salad bowl. Drizzle with dressing; toss to coat. Top with beets, cheese and walnuts.
Nutrition Facts
3/4 cup: 113 calories (with cheese), 10g fat (2g saturated fat), 4mg cholesterol, 128mg sodium, 5g carbohydrate (3g sugars, 1g fiber), 2g protein.